"The Best Damn Sand in the Land"



The VolleyPark is renowned for having "The Best Damn Sand in the Land."   That long traveled beach sand is just the beginning of the story…it's the of ambiance of a beach-side setting that makes playing sand volleyball at the VolleyPark so special.
Join us this season; you're gonna love The VolleyPark and Izzee's Barefoot Bar!

2018 Registration Is NOW OPEN! 
click to register for:  Spring Training Session  –  Rec 6's
click to register for:  Spring Training Session  –  Competitive 4's
click to register for:  Summer Session #1  – Rec 6's
click to register for:  Summer Session #1  –  Competitive 4's
---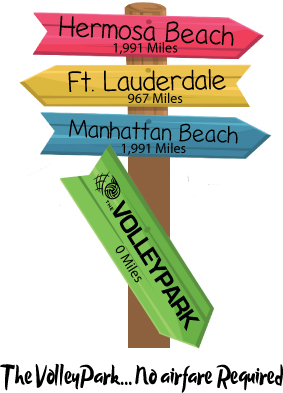 VolleyPark Leagues 2018:  VolleyPark sand volleyball leagues are for social/rec players all the way up to highly skilled.  You will find beach volleyball for 6, 4 and 2 player teams.
Sign-up is easy at the VolleyPark.  Click the links above for details and registration in our Spring Training and Summer Session #1 Leagues.  Once your team captain registers and pays for your team, you're ready to go.  If you can't fill a full team, sign-up as a "free agent" and we'll  find you a team.   
PAY EARLY…PAY LESS!  Every session, the last minute rush to get signed-up makes it hard to provide you with smooth scheduling.  To help ease the rush we're offering early pay discounts that will allow you to pay even less than last year!  There are now 3 windows of pricing for each session;  1) pay any time up to 2 weeks in advance (early bird),  2) pay up to 3 days before the session (regular), and 3) late payment begins 3 days before the session starts.
---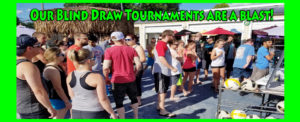 Weekly Blind Draw Tourneys!
Our Blind Draw tournaments let you play more without having to organize a full team. Saturday's this season you can play in these great events meet lots of others who love this game and can win some AWESOME VALUABLE PRIZES!!! 
Details and Tournament Registration
---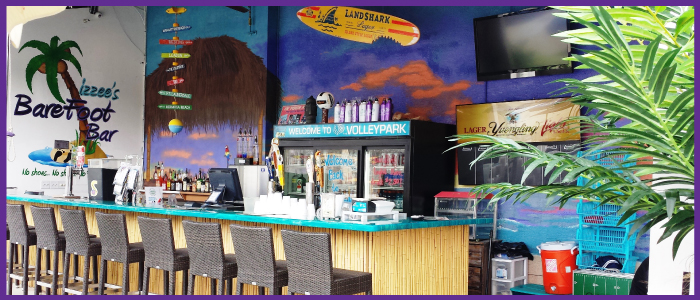 Izzee's Barefoot Bar 
There's nowhere else in Columbus like Izzee's Barefoot Bar.  Without leaving Columbus you'll arrive at a beach bar with delicious food and a full slate of craft beer and mixed drinks.  What's more, there is plenty to keep you entertained with cornhole boards, beer pong, Giant Jenga and sports on DirecTv.
The VolleyPark and Barefoot Bar are your personal escape to the beach without ever leaving Columbus.
Check out our specialty items and full menu!
---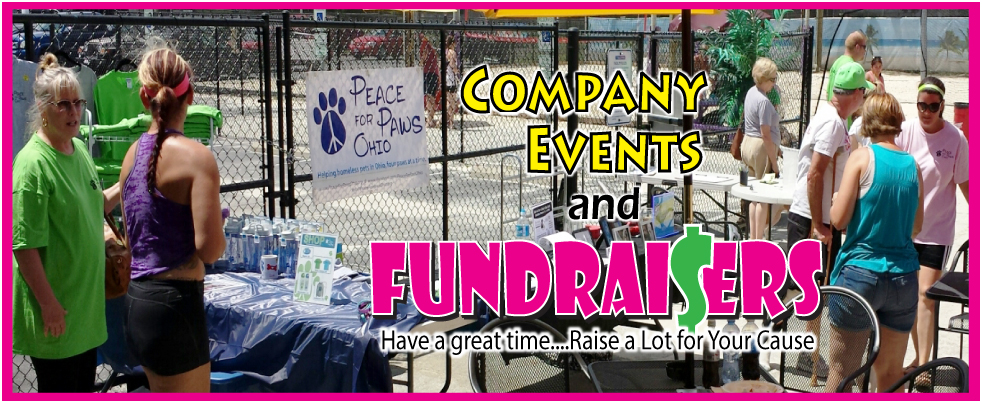 Company Events: Your team will feel like you've taken them to the islands for a day! Whether it's a team-building day of sand volleyball or an after work cocktail party the team at The VolleyPark will ensure that all of your needs are met and your event is a hit.
Fundraisers:   If you are looking to hold a fundraiser for your non-profit, a beach themed day of sand volleyball  will provide your donors the warm feeling that they got back as much in fun as they gave in donation!  Call Phil for more 614-499-5988 or email Phil@thevolleypark.com
Learn more about renting our facility!
---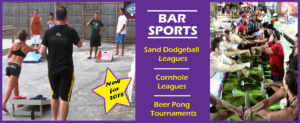 NEW for 2018!
Awesome Bar Sports Leagues!
The relaxed beach atmosphere of the Barefoot Bar is the perfect venue for bar sport leagues that you'll want to be a part of.  Imagine the fun of Beach Dodgeball Leagues. There's no better venue for cornhole leagues and we'll play Euchre in the comfort of the Barefoot Bar too. Special events will feature favorites like Beer Pong and Flip Cup too!
Learn about VolleyPark Bar Sports and Registration
---
MEET THE NEW GUYS!
Ryan and Phil have joined us in marketing at Sequoia and the VolleyPark.  Their job is to be our Directors of Fun!  In addition to running our volleyball leagues they will be running evcn more great events than we've ever done before.  Get ready for new craft beers & tasty things to eat, fun new leagues like Sand Dodgeball, Cornhole and Euchre and special events like our already famous Beer Pong tournaments!
It's going to be a great Summer of 2018 at The VolleyPark!