Rec 6's Sand Volleyball at The VolleyPark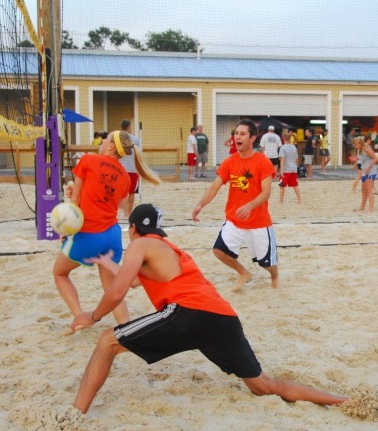 We offer recreational sand volleyball leagues for teams of 6 players on Sunday, Monday, Tuesday and Thursday.  You'll have a great night out in an atmosphere that says relax.  We want this to be your night out and our "beach" to be your escape from a tough week at work.  On Thursdays nights we offer 3 levels of Rec 6's with A, B and C (true beginners) Divisions.
For more details and registration information, click the link below for the day you want to play.
S.I.N. Night – a Monday Night League devoted to the hard working people of Cbus!
Tuesday Coed Rec 6's – This is more of an intermediate level volleyball
Thursday Coed Rec 6s – This is our most chill Rec league – Get your weekend started early! A, B and C levels of play!
Sunday Coed Rec 6s – End your weekend with a bang! This is a night with a wide range of play from family groups to Intermediate levels of play.