The VolleyPark is pleased to now offer REWARDS in appreciation for spending your valuable time at The VolleyPark.  Enjoy 5% back on every purchase you make at Izzee's Barefoot Bar.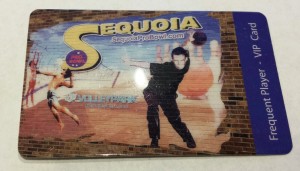 Program Description
This season we are providing each VolleyPark player and frequent visitor of Izzee's Barefoot Bar a "VIP REWARDS" card.  These cards will be issued free of charge during the first weeks of play this season.  Present your VIP CARD to the staff at any register and they will swipe your card to give you 1 point for every $1 you spend on food, beverage and bowling (note that league and tournament fees are ineligible). Your points may be redeemed for food, bowling or even a free Spalding King of the Beach volleyball.
How to get  BONUS POINTS

We will offer DOUBLE POINTS to kick off this program.  All purchases made between now and May 17 will receive double points!
If you connect us with the right person at your company and it results in a company party being booked at either The VolleyPark or Sequoia Lanes, YOU WILL GET THE POINTS FOR PAYMENTS MADE FOR COURT OR BOWLING LANE FEES as a thank you for the introduction. Call Tim at 614 571-2135 for details.
 Points redemption value
Receive a $5 credit per 100 points you earn. Points may be redeemed for food or bowling (excluding league fees). OR… build your points to 800 and redeem them for a Spalding King of the Beach volleyball.
200 points = $10 or a VolleyPark t-shirt

300 points = $15

400 points = $20

500 points = $25 

600 points = $30

700 points = $35 or a VolleyPark hoodie

800 points = $40 or a Spalding King of the Beach volleyball
Strategies for adding to your points total 
Hold your husband, wife or child's birthday party at Sequoia and The VolleyPark.

Join us for dinner or happy hour before league play.

Join us in Izzee's Barefoot Bar, play darts in the 7-10 Club or join us for karaoke on Friday night. 

Hold your friend's bachelor(ette) party, a family reunion or a graduation party here with us. 

Convince your boss to hold the company holiday party or team building event with us and you'll get the points!
Restrictions & limitations 
A 200 point minimum is required to begin redeeming your points.

Ohio laws prohibit points from being redeemed for alcoholic beverages.

Points are awarded for the value of the item or service purchased. No points are awarded on taxes or tips paid.

You must have enough points to earn each award. Partial points may not be used as partial payment for a higher value item.

You must present your card at the time of purchase to receive points.

Points for discounted price events will be awarded at a pro-rated value (example: if you bring us an event from your company and we negotiate a price of $12 for our normal $15 of service you will receive 12/15 or .8 points per $1 dollar purchased instead of the normal rate of 1 point per $1 spent.

Only one "Product Prize" may be earned per family. There is no limit on the "Food and Bowling" prize value redeemed.
 Program expiration date
You may accumulate and spend reward points until the VolleyPark closes at the end of the season on October 4, 2015.  Points will not roll over and will return to zero on October 5, 2015.