A BRAND-NEW VOLLEYPARK TRADITION!
S.I.N. MONDAYS!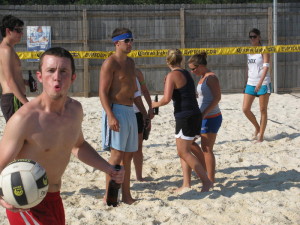 A new beach volleyball tradition is born…  This new sand volleyball league is going to show our service industry friends a whole new level of fun! Everyone knows that the service industry knows how to have a good time, and here at The VolleyPark, all we have are good times! You're going to love this exciting new twist on service industry nights AND on sand volleyball leagues!
It's a brand new concept!  In our S.I.N Monday League, each team will play ONE 3-game match of sand volleyball, then turn around and compete against that same opponent in a match of ONE of our amazing bar games that will rotate between Cornhole, Giant Beer Pong, Connect Four and Giant Jenga,  (The Bar Game you play each week will be different.) Each match will earn you points, and the team with the most points after 8 weeks will get their name on our S.I.N. Monday trophy!
It will be exciting to see all of your hard working service industry friends competing! A little friendly sand volleyball and bar game rivalry between different bars is going to be the BEST way to spend Monday nights in Columbus!
The VolleyPark is home of "The Best Damn Sand In The Land." We've become Columbus' premier sand volleyball facility. We offer the best overall experience for outdoor fun! 5 sand volleyball courts that aren't crammed together (like some of those other places), an incredible beach themed barefoot bar where "No Shirts, No Shoes" are "No Problem!" Izzee's Barefoot Bar is the best place in town to feel like you've been transported to the Florida Keys- without the airfare! We offer a huge selection of liquor and wine and proudly offer some of Columbus' best local beers on draft! And to add to ALL THIS FUN, we have a great selection of bar games including Cornhole, Giant Jenga, Giant Beer Pong, and Giant Connect Four!  The VolleyPark- Your home for an endless summer!